Surfatoll Maldives surf t-shirt by famous designer Steve Nazar
Those who grew up in the 90s will surely remember the t-shirts of the famous brand Town & Country. These t-shirts illustrated "Gorilla" surfing with his group of friends and doing all kinds of silly things amid paradisaical landscapes. They also represented  that touch of America full of colors we were dreaming about here on the other side of the Atlantic. Here at Surfatoll being nostalgic for those years, it is with great pleasure that we have called on the talent of Steve Nazar for the creation of our 2016 T-shirt!
We took the opportunity to ask him some questions:
Dear Steve, where are you based?
I live in Riverside, California. It's about sixty miles south east of Los Angeles.
For how long have you been designing your cartoons?
As long as I can remember. I was always that kid in school that could draw well. I first made money drawing cartoons right after high school, and got my first full time art job in 1980.
Is surfing a subject your particularly appreciate?
I have always enjoyed drawing surf themed cartoons because let's face it, surfing is inherently cool.
Do you personally surf?
I used to, but not any more.
Did you like to do this project for Surfatoll?
It was a blast! I love doing work for places in beautiful far-off places. I did some shirts for the Canary Islands too.
Since the end of T&C, for whom do you work?
Too many companies to mention. I was art director for JVC Digital Arts, and lead artist for Big Dogs Sportswear among many others.
How can you be contacted?
Through my website: http://www.stevenazar.com or by email stevenazar@stevenazar.com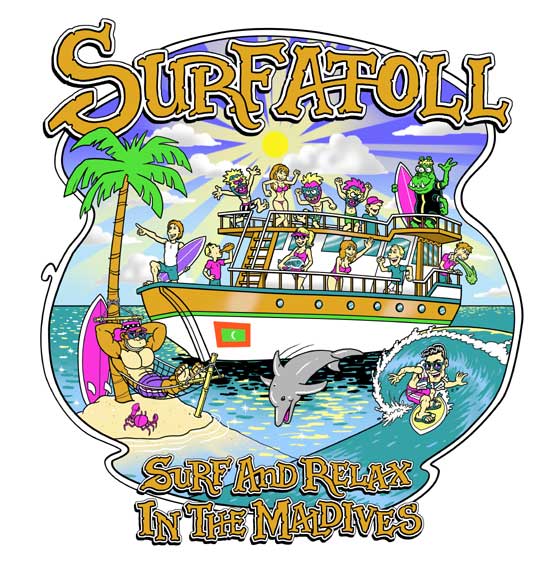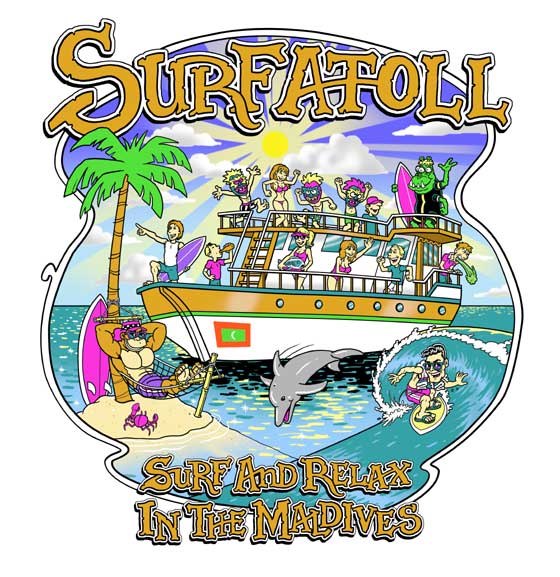 Above: Surfatoll Maldives surf t-shirt by famous designer Steve Nazar. After all this years, "Thrilla Gorilla" has finally discovered the Maldives and seems to enjoy it!
If you want to order the t-shirt (50 USD), you can email us at info@surfatoll.com by specifing your size (S,M,L).