And the winner of the 2018 Photo contest is…
As a reminder, Surfatoll organized a photo contest that would reward the winner with a brand new Firewire board designed by Rob Machado. The contest ended at the end of September 2018, the winner's photo obtained 221 Likes on FB (click here to see all submitted pictures) on that date. See the winning picture above as header picture!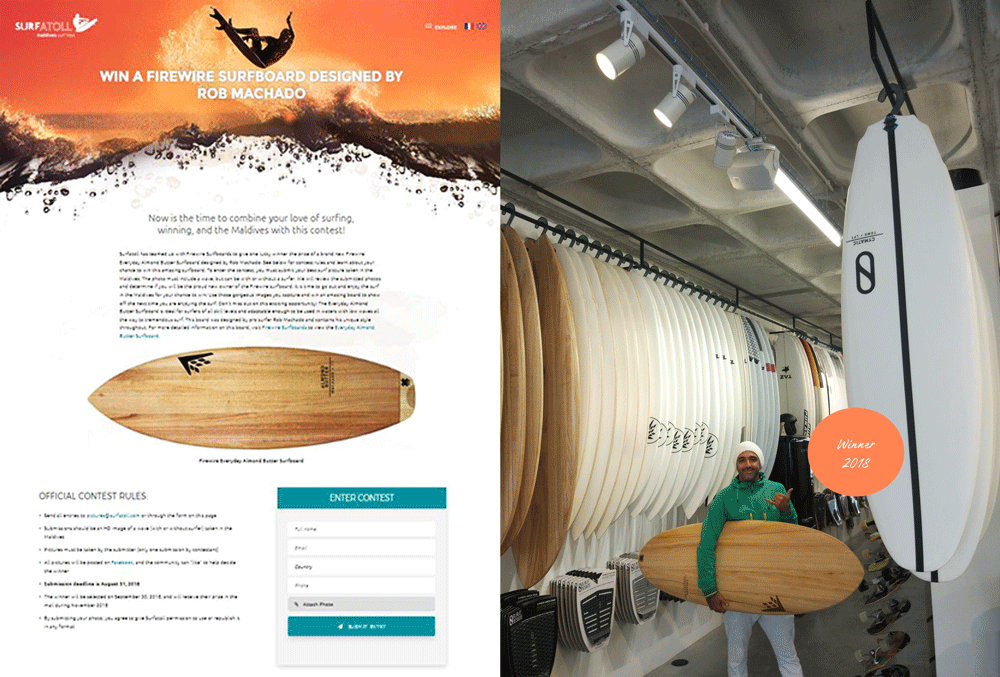 What is your name and where do you live?
My name is Nuno Dara, I am Portuguese and live in Vila Nova de Gaia near Porto.
Why did you choose the Maldives as a surfing destination?
My home break is Salgueiral beach and some beaches south of Porto.
We have good and consistent waves in the winter (Atlantic Ocean) but the water is cold…
that was one of the reasons that my family and I (wife and an 11 year old son) chose
the Maldives and the island of Thulusdhoo for our summer vacation in 2017.
How was life on the island?
The life on the island consisted of getting up at dawn when it was still dark to check the surf conditions. Breakfast made with pancakes and amazing tropical juices, take a few pictures before going into the water (among which I chose the one I  submitted to the Surfatoll photo contest) and surf until lunch. Then a nap and surfing again until nightfall. Swimming with turtles, some snorkeling, watching some stingrays and dolphins was part of the equation too and was unforgettable. We also met some very nice people from all over the world.
Which waves did you surf?
I was lucky enough to surf Cokes, Chickens and Jail: world class waves that certainly compete with best breaks in the world.
Tell us about the board you won?
I chose the Creeper board by Rob Machado in 6'00. It's a 70's inspired board coupled with a curvy fuller outline in the tail to allow quick direction changes. I look foraward to testing it in the Maldives!
I am very happy to win the contest and wish to send a big thank to everyone that vote for me and also to Surfatoll for the amazing prize.
See you guys in the water 🤘🤘