Maldivian surfer "Iboo" measures himself against global competition and rips it up!
Some of the biggest names in surfing hit the waves in Kuda Huraa for the 2016 Four Season Maldives Surfing Championships Trophy. West Australian surfer Taj Burrow took first place after battling the defending champion, Shane Dorian in the Final. Burrow recently retired from the WSL Championship Tour giving him more time for other events. For the first time in history, the wildcard position went to a local. That local won fifth place with stunning performances. Hussain "Iboo" Areef made his own name sparkle beside the surf legends with his fifth place finish.
Only six world champions are invited to battle for the coveted surfing trophy in the Maldives. Iboo surfed against some of his surf heroes like female superstar Bethany Hamilton, iconic soul surfer Rob Machado, the 2015 event champion Shane Dorian, the WSL deputy commissioner Travis Logie and Pipe specialist Jamie O'Brien.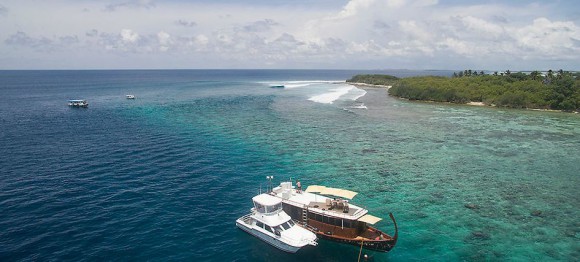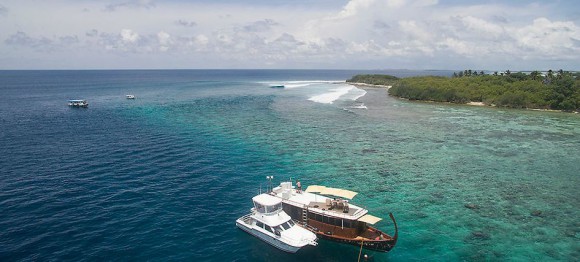 Sultans wave
Areef has made his name well known in the surfing world the past few years. He most recently won the Domestic Champions Trophy. Throughout the Maldives competition Areef made heads turn with his skills. He fell to one of his heroes, Burrow in the Semifinal. He showed off his knowledge of the Sultans, his local waters with his backhand surfing. Areef went nose-to-nose with Burrow, but couldn't win over the judges for the win.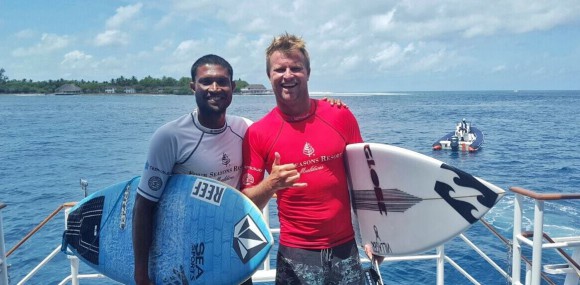 Maldivian surfer Iboo and Taj Burrow
Areef's performance will help him continue to build a name for himself, and he is using the tournament to fuel his growth as a surfer. "Seeing the world's best surfing my home break has been amazing," he said. "I feel like my surfing has improved just from watching how they surf."
We look forward to seeing Areef make a triumphant return to the event in 2017. For more news and updates on the tournament, check their website here.