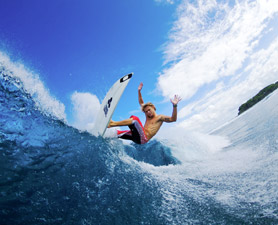 Don't have enough guys for the private charter? No problem,click here
Private Charters Package
The best way to get the most out of a surfing trip in the Maldives is by Private Charters. This means you will have the boat only for your group (no other people on board) and you can really decide where to go as you are the captain on board. The minimum number of people for a private charter is normally 8 people but the most luxury boats sometimes require a higher minimum number. Another big advantage with the private charters is that you can choose the dates during which you want to travel (as long as the boat is available). This ensures you total flexibility!
Below, we propose some ideas depending on which region you want to surf. Normally the surf trips start from Male airport but sometimes you can take advantage of a boat that is located in the central or southern atolls. In that case, you can fly to a local airport where the boat will be waiting for you; this will save you unnecessary cruising if you want to surf in those remote regions.
If you have any questions regarding our Private Charters, what is included on the surf trip, or any other questions regarding the maldives surfing experience, please visit our FAQ page or contact us.